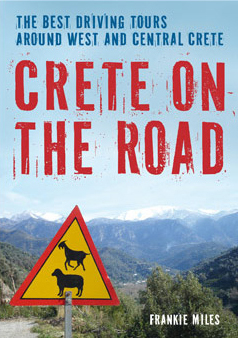 After spending many years driving around and getting lost, following out of date and/or inaccurate maps, I have written a guide book filled with directions to and from the most beautiful sights on Crete , with as much detail as possible in order to make your stay on this fantastic island as rewarding as possible. There are long drives in the book which will involve full days out, and there are also much shorter drives which have been grouped together in their specific areas.
At the beginning of each individual drive I have put a description of the sights that you will see. More elaborate descriptions and the history of each area, monument or site are then included in the detailed directions, entrance fees and opening times are also included. In nearly all of the drives I have included recommendations on places to eat and drink, and places to swim. The book includes information to all the major tourist attractions, as well as many hidden sites. Also included in the book is the only existing map of the National Highway showing all of the entrances/exits and distances.
"Crete on the Road" started out as a folder that was left in each of the villas that I look after as my clients were always asking how to get to certain well known places, as well as wanting to know about the more "hidden" off the beaten track places that only a person who had been living here for years might know about. The folder was greatly appreciated by my clients and so many of them told me that I should publish it that I finally took their advice.
A free copy of the second edition"Crete on the Road" (updated in 2012) comes with every booking of a Villas Crete Holidays property. I am sure that it will enhance your holiday experience and enable you to see some of incredibly beautiful and varied sights that Crete has to offer without wasting precious holiday time getting lost!
Below is a very small selection of comments from holidaymakers who have used "Crete on the Road" (the bottom three comments were posted on the Trip Advisor website):
Hello Frankie,
We have recently bought your wonderful book re drives around Crete . We have been coming to Almyrida for over 10 years and thought we knew most of the area but your book has opened up new horizons ! Thank you very much for this !
N. Braithwaite
Dear Frankie,
I bought a copy of your publication, and found it a real treasure. we used it every day for the fortnight we were in Crete , going on the different routes each day, and found all destinations wonderful, anyway we just thought we would let you know, keep up the good work
a.g.beale.
Dear Frankie,
Your book "Crete on the Road" was an excellent guide. Our boys were really excited about the trips we made!
We enjoyed our stay.
The Hakeboom Family,
The Netherlands
From the Trip Advisor Website:
The best book I have seen is 'Crete on the road' written by Frankie Miles (an ex rep who has been here about 10 years). It concentrates mostly on North Western Crete but gives good route instructions for days out and a good plan of the highway exits from one end of the island to the other. (Can be purchased in most good bookshops here in Chania for 12 euro, or most of the holiday reps can find you a copy - depending who you are travelling with)
If you really want to get off the beaten track buy a good tourist driving guide we found "Crete on the Road" was excellent - invaluable when you see the hopeless maps for tourists.
Suggest you try and get hold of a copy of 'Crete on the Road' by Frankie Miles. It's packed full of directions to out of the way sites, tavernas and walks which are normally off the tourist trail.